When it comes to relaxing outdoor furniture, nothing beats a hammock. The gentle sway and comfortable design make hammocks the perfect addition to any patio, camping trip, or outdoor adventure. Whether you're lounging around in your backyard or going on a backpacking journey, having a hammock ensures you have a comfy spot to nap or simply lounge around. In this article, we will take a look at the top 5 cheap hammocks that offer the best value for you.
Hammock Overview
Before diving into the specifics of choosing the best hammock, let's have a quick overview. A hammock is essentially a bed made of fabric or rope that is suspended between two points, usually trees or a hammock stand. Hammocks come in various styles, sizes, and materials, catering to different preferences and needs.
Top 5 Cheap Hammocks Offer the Best Value for You
Lightweight Polyester Hammock
The lightweight polyester hammock is an ideal choice for outdoor enthusiasts looking for a comfortable and durable hammock. Made from high-quality polyester material, this hammock is both lightweight and strong, making it perfect for backpacking, camping, or simply lounging in the backyard. The polyester fabric is not only soft to the touch, but it also dries quickly, making it resistant to mold and mildew. The hammock is easy to set up and can support up to 300 pounds, making it suitable for people of all sizes. Its compact and portable design allows for easy packing and transportation, making it the perfect travel accessory. Whether you are planning a weekend camping trip or simply want a cozy spot to relax at home, the lightweight polyester hammock is a versatile and practical choice. So why wait? Get your lightweight polyester hammock today and start enjoying the great outdoors in comfort and style.
Camping Nylon Hammock
A Camping Nylon Hammock is a must-have item for any outdoor enthusiast. Made from durable and lightweight nylon material, these hammocks are designed to provide maximum comfort and relaxation while camping or backpacking. The nylon material is not only strong and sturdy but also quick-drying, making it ideal for outdoor use. The hammocks are easy to set up, requiring only two sturdy anchor points such as trees or poles. They are also compact and portable, easily fitting into a small carry bag for convenient storage and transportation. Camping Nylon Hammocks are available in various sizes and colors to suit different preferences and needs. Whether you are looking for a hammock to relax in during your camping trip or a comfortable sleeping solution for overnight hikes, a Camping Nylon Hammock is a versatile and practical choice. So next time you plan a camping adventure, make sure to pack your Camping Nylon Hammock for the perfect outdoor experience.
Portable Cotton Hammock
The portable cotton hammock is the perfect solution for those who love to relax and unwind in the great outdoors. Made from high-quality cotton, this hammock is comfortable, durable, and easy to transport. Its lightweight design allows you to take it anywhere – whether it's a camping trip, a beach getaway, or simply lounging in your backyard. With its sturdy rope supports and spacious design, this hammock provides a secure and comfortable spot to lay back and enjoy the sunshine. The cotton material is breathable and soft, making it ideal for hot summer days. It comes with a convenient carrying bag, making it effortless to pack and store when not in use. Whether you want to nap, read a book, or just sway gently in the breeze, the portable cotton hammock is the perfect companion for all your outdoor relaxation needs.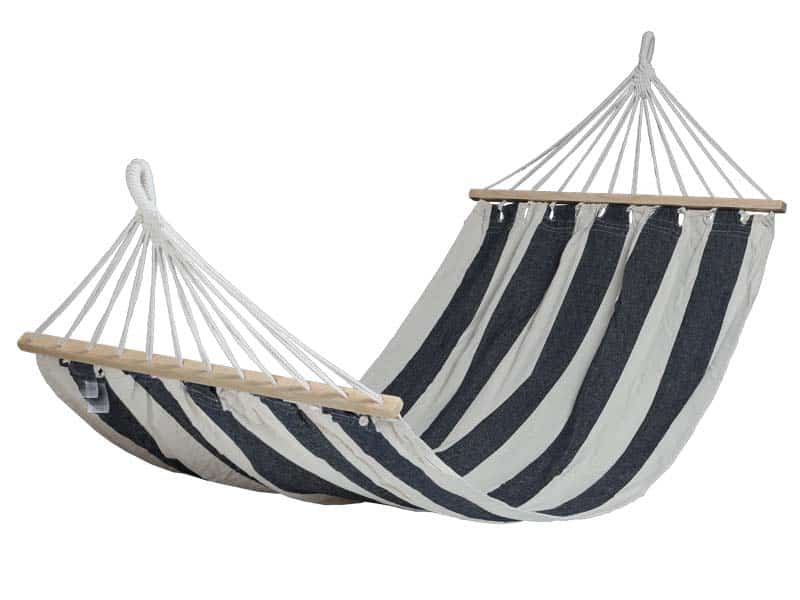 Spreader Bar Hammock
A spreader bar hammock is a type of hammock that features a sturdy bar at each end, which helps to keep the hammock spread out and flat. This design allows for a wider and more stable sleeping surface, making it ideal for lounging and napping. The spreader bars also prevent the hammock from enveloping the user, providing a more open and breathable space. These hammocks are often made from durable and weather-resistant materials such as polyester or cotton blend, ensuring long-lasting use. Spreader bar hammocks are great for outdoor spaces like gardens or patios but can also be used indoors. They come in various styles and designs, from traditional rope hammocks to modern fabric variations. Whether you want to relax in the sun or cozy up inside, a spreader bar hammock offers both comfort and style.
Double Hammock for Camping
A double hammock for camping is the perfect solution for couples or individuals who want to enjoy the great outdoors together. Made from durable materials, these hammocks are designed to accommodate two people comfortably, providing a cozy spot to relax and unwind after a day of hiking or exploring. With a double hammock, you can enjoy the simple pleasure of lounging beneath the trees, taking in the sights and sounds of nature. Many double hammocks are also equipped with bug nets and rain tarps, making them suitable for all kinds of weather conditions. Whether you're on a weekend camping trip or embarking on a long-distance backpacking adventure, a double hammock offers a lightweight, compact, and versatile sleeping option. It can be easily set up between two trees or any sturdy anchor points, providing a comfortable and elevated sleeping surface. So, if you're planning a camping trip and want to enhance your outdoor experience, consider investing in a double hammock.
How to Choose the Best Hammock
When it comes to choosing the best hammock, there are several factors to consider. Let's discuss each of them in detail.
Factors to Consider
Firstly, you need to consider the purpose of your hammock. Are you looking for a hammock to use during camping trips or as patio furniture? This will help determine the type and features you need.
Bed Fabric
The bed fabric of a hammock plays a crucial role in determining its comfort and durability. Common materials used for hammock beds include nylon, polyester, and cotton. Nylon hammocks are lightweight and breathable, making them ideal for camping and outdoor use. Polyester hammocks are known for their durability and resistance to UV rays. Lastly, cotton hammocks are soft and comfortable, perfect for lounging in your backyard.
Stand Material
If you're not planning on using trees to hang your hammock, a hammock stand becomes an essential accessory. When it comes to stand material, you have options like steel, wood, and aluminum. Steel stands are sturdy and durable, making them a popular choice for outdoor use. Wood stands offer a more natural and aesthetic appeal, perfect for patio settings. Aluminum stands are lightweight and portable, ideal for camping and backpacking.
Style
Hammocks come in various styles, such as spreader bar hammocks and hammock chairs. Spreader bar hammocks have bars at each end, which keep the hammock spread wide and provide plenty of room to relax. Hammock chairs, on the other hand, are designed for a more upright and seated position.
Size and Capacity
The size and weight capacity of a hammock are crucial considerations, especially if you plan on sharing it with someone. Hammocks are available in single or two-person options, with weight capacities ranging from 250 pounds to over 500 pounds. Consider the intended users and their combined weight to ensure the hammock can safely accommodate them.
Setup and Portability
Easy setup and portability are essential features, especially for camping hammocks. Look for hammocks that are easy to set up and come with necessary accessories like adjustable straps and carabiners. Portability is also crucial if you plan on carrying the hammock with you on backpacking trips.
Accessories
Lastly, consider any additional accessories you might need or want for your hammock. This could include a bug net, an ultralight tarp for protection against rain, or even hammock stands or hooks for easy installation.
Frequently Asked Questions
What is the most comfortable hammock material?
When it comes to comfort, cotton hammocks are often considered the most comfortable. The soft and breathable fabric provides a cozy and relaxing experience.
Which freestanding hammocks are most comfortable?
Freestanding hammocks, such as those with spreader bars, provide a comfortable lounging experience. Look for hammocks with woven cotton beds for the ultimate comfort.
How long is a typical hammock?
Hammocks come in various lengths, but the most common size is around 10 feet long. This provides plenty of room for relaxation.
What is the best height for a hammock?
The ideal height for a hammock is around shoulder height when hanging. This allows for easy entry and exit while maintaining a comfortable position.
What is the safest hammock?
When it comes to safety, it's essential to ensure your hammock is properly installed and can support your weight. Look for hammocks with a high weight capacity and sturdy construction for added peace of mind.
Read more: 10 Tips for Finding a Reliable Hammock Supplier