If you are starting a hammock brand, then you will need a reliable hammock supplier for your brand. There are lots of hammock suppliers. So, it may not be easy to know which is reliable or not. Here are a few essential tips you need to consider to ease your searching process. When you think of these tips, you can find the best hammock supplier for your needs.
How to source a reliable hammock supplier
In this age, the internet is generally the first option to source credible information when making decisions. A simple search on Google, Bing, or any other search engine will list the hammock suppliers. While searching, search for the suppliers proximate to your location. Then, find the suppliers that align with your needs and connect with them.
You can also use B2B websites to connect with reliable hammock suppliers. B2B websites connect sellers to the appropriate buyers. You can connect with hammock manufacturers in China through B2B websites.
A yellow page is an online directory listing the hammock manufacturers and their necessary information. This information includes their address, locations, and phone numbers. A yellow page will help you find a reliable hammock supplier close to you. For example, YP Canada makes information about hammock businesses and suppliers in Canada available. If you are in Canada, on YellowPages.ca, you will find the exact hammock supplier that suits your needs.
If you were importing from another country, especially China, you would need a sourcing agent. A reliable sourcing agent will help you make necessary inquiries, get the best supplier, and guide you through the importation process.
Factors to consider before choosing a hammock supplier
When choosing a hammock supplier, you need to consider several factors. These include:
Quality of Materials: Look for a manufacturer that uses high-quality materials to ensure the durability and longevity of the hammock. The fabric, ropes, and hardware should be sturdy and able to withstand outdoor elements.
Comfort: A good hammock should be comfortable to lie in and provide ample support for your body. Look for manufacturers prioritizing comfort and offering hammocks with breathable fabric, padded straps, and built-in pillows.
Size and Weight Capacity: Consider the size and weight capacity of the hammock to ensure it can accommodate your body size and weight. Some manufacturers offer a variety of sizes and weight capacities to suit different needs.
Sample: You can request sample hammocks from the supplier you want to partner with. Inspect the sample carefully before you commit to transacting with a supplier. This will give you a clue as to the quality of the supplier's product.
Indeed, you do not want to partner with a supplier that takes a long time to ship your hammocks across to you. So, it would help if you chose a supplier that guarantees fast shipping.
You must contact the supplier to know the price before making an order. This will enable you to compare the price to other suppliers' pricing and see if it is within your budget.
Ensure that your selected supplier is registered with the relevant agency. You can hire a sourcing agent to verify this for you.
When choosing, choose a supplier with the necessary certification from the appropriate bodies. One of the certifications to look out for is the Conformite Europeenne (CE) certification, which signifies that the company adheres to the safety and health standards of the European Union.
Some hammock suppliers offer fake products. Ask for samples and check carefully to ensure they are of high quality.
Common types of Hammocks that you can import.
If you're looking for a versatile and portable camping gear that can help you sleep comfortably outdoors, a hammock is the perfect way to go. However, choosing the right hammock can be a daunting task, with so many hammock models and options available in the market. The first step is to determine the specific hammock you want, based on how you plan to use your hammock. For instance, do you want a backyard hammock, a freestanding hammock, or a hammock you can suspend between two trees? Once you have a clear plan, it's time to pick the right hammock. Look for top hammock manufacturers that provide everything you need, including a hammock suspension system and the necessary hardware to hang the hammock in place. Hammocks come in different sizes and shapes. They are also made with other materials of varying qualities. Below are some of the common types of hammocks you can import.
Kids hammocks are designed for kids of all ages. They offer kids a good place to rest, read, and sit.
They are durable hammocks and do not get destroyed by moisture. They are made of comfortable and sturdy materials.
Beach hammocks usually come with a frame. So, you do not need trees to set them up. You can set them quickly and within a short time in any place for your relaxation.
Tree hammocks can only be used for outdoor purposes. Before using this hammock, you must fasten them between two trees.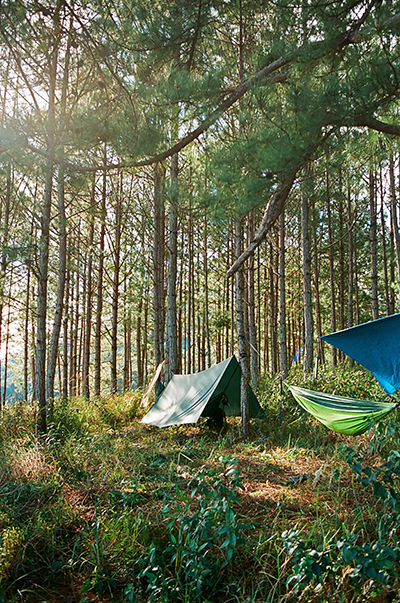 Mastering the Art of Hammock Hanging: Rope vs. Straps and Other Techniques
Hammocks are a comfortable and relaxing way to enjoy the outdoors. Whether you're lounging in your backyard or camping in the wilderness, mastering the art of hammock hanging is key to a successful hammock experience. There are various techniques for hanging a hammock, including ropes or straps, and each method has pros and cons. In this article, we'll discuss the differences between these two techniques and provide some other tips for mastering the art of hammock hanging.
Ropes vs. Straps
The traditional method of hanging a hammock involves using ropes. Ropes are versatile and lightweight, making them popular for backpackers and campers. However, ropes can be difficult to tie securely and may damage trees if not used properly. In addition, ropes may stretch over time, causing your hammock to sag. Straps are a newer and increasingly popular method of hanging a hammock. Hammock straps are typically wider and thicker than ropes, providing a more secure and stable hang. They also distribute weight more evenly, reducing the risk of damage to trees. Hammock straps are easy to set up and adjust, making them a convenient choice for beginners.
Other Tips for Hanging a Hammock
Regardless of whether you choose to use ropes or straps, there are a few other tips to keep in mind for hanging a hammock:
Choose the Right Location: When selecting a spot to hang your hammock, look for sturdy trees or other structures that can support your weight. Avoid hanging your hammock too close to the ground or too high up, as this can cause discomfort and may be unsafe.
Use the Right Hardware: Whether you're using ropes or straps, it's important to use high-quality hardware to ensure a secure and stable hang. Look for carabiners or hooks designed specifically for hammocks that can support your weight.
Check the Weight Capacity: Before using your hammock, make sure to check its weight capacity and ensure that it can support your body weight. Most hammocks have a weight limit of around 400-500 pounds, so it's important to choose a hammock that can accommodate your weight.
Use a Hammock Stand: If you don't have sturdy trees or other structures available for hanging your hammock, consider using a hammock stand. Hammock stands are portable and easy to set up, making them convenient for backyard lounging or camping trips.
There are different hammock suppliers across the globe. However, ensure you consider the necessary factors when making your choice. You can hire an outsourcing agent to make necessary inquiries before you begin a transaction with a supplier. Finding a reliable hammock supplier is not as tricky as you've thought! Jaunty Leisure is a reliable hammock supplier you can partner with. Read more:
The Best Camping Hammocks Designs of 2023