The hanging chair is a leisure product belonging to the field of furniture technology. In recent years, fashionable leisure chairs in the modern city have become quietly popular. Put a leisure chair at home, in the swing, to develop the child's sense of balance and body perception while also bringing a feeling of happiness and complete relaxation. So some B2B business companies also choose these kinds of hanging chairs. To help you to buy the best outdoor hanging swing chair in China, we introduce the below designs for your review.
Hanging chairs can be divided into wooden with cotton fabric; ropes; polyester; metal, and rattan materials.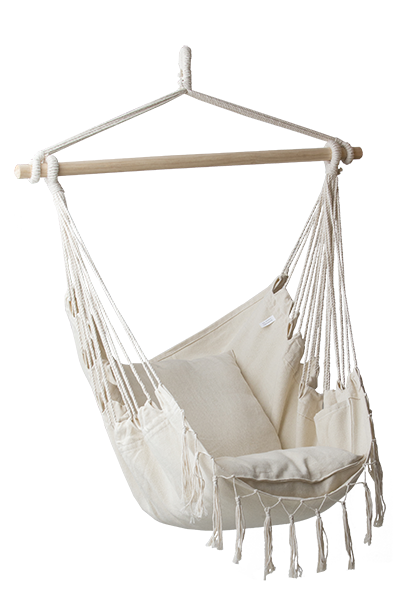 Cushion chair
This hanging chair with two cushions makes you more comfortable and enjoy relaxation anywhere. It can load 330 pounds maximum. So don't worry about safety. It's the hanging chair for camping, bedrooms, gardens, porches, decks, patios, beaches…
The material is 65%cotton and 35%polyester. It's breathable material.
2. Hanging chair with fringes.
This hanging chair with tassels, it's good for camping to relax under the trees and take goods beautiful photos sitting on it—the max. Loading capacity is 330 pounds. And it's a much lighter unit weight for you to take it anywhere.
3. Hanging chair with armrest
This hanging chair with polyester inside, not just only one thin fabric. Likely you are sitting on the quilted. And with solid wood bars to put your arms on to read a book. It's a nice place. The fabric is polycotton woven fabric. The max. Capacity is also 330 pounds.
4. This kind of hanging chair is almost the same design as the above one, just only without an armrest. It's cheaper cost. Love this chair.
5. Rope hanging chair
Its handmade woven rope hanging chair is perfect for the living room, bedroom, patio, poolside and deck, etc. And to be a thoughtful, caring personal gift. The max. Capacity is 330 lbs. It can be made in other rope colors.
6. Rope hanging swing
Strong steel frame with hand-woven rope. The diameter of the big ring is 80cm and 60cm. The woven-net swing is comfortable. Max. load is 330 lbs. It gives you an excellent place to rest and decorate your home.
7. Assembled kid swing
The swing is made of a steel frame and polyester fabric. It's assembled with four parts. It's a good choice for kids and friends. This play equipment is fantastic for playing indoor and outdoors. The max. loading is 330bls too. This kind of product is suitable for mailbox packages.
It's easy to install and assemble.
Assembled with four sections and is easy to carry. Have fun for kids everywhere you go with a swing. The diameter is 100cm. Can reach 330lbs loading capacity. Easy to install and assemble. The rope can be made in different colors.
9. The combo steel swing is made of a steel frame, and the rope is added. With big cushions feel very comfortable. The max. Loading is 450 lbs.
Decorative matching of hanging chairs:
Modern white-collar workers create a fairy-tale-style world after a busy week. With a hanging chair, you can make the whole home become poetic.
The most important part of the hanging chair is to hang the rope, if the rope has a problem, it will lead to trouble, and therefore, regular inspection and maintenance of the chair rope are necessary. Check whether the rope is aging or damaged, etc., to be replaced in a timely manner.
Jauntyleisure will be the supplier of the above hanging swing chairs. Welcome to contact us. We will provide the final solution for these products.
Read more: HANGING CHAIR INSTRUCTION FOR USE