The hanging chair is a leisure product belonging to the field of furniture technology. In recent years, fashionable leisure chairs in the modern city have become quietly popular. Put a leisure chair at home, in the swing, to develop the child's sense of balance and body perception while also bringing a feeling of happiness and complete relaxation. So some B2B business companies also choose these kinds of hanging chairs. To help you to buy the best outdoor hanging swing chair in China, we introduce the below designs for your review.
What are the best hanging hammock chairs?
Hanging chairs can be divided into wooden with cotton fabric; ropes; polyester; metal, and rattan materials.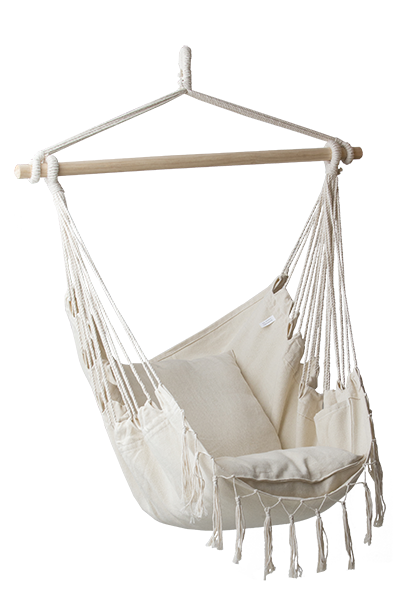 Chair with cushion
This hanging chair with two cushions makes you more comfortable and enjoy relaxation anywhere. It can load 330 pounds maximum. So don't worry about safety. It's the hanging chair for camping, bedrooms, gardens, porches, decks, patios, beaches…
The material is 65%cotton and 35%polyester. It's breathable material.
Hanging chair with fringes.
This hanging chair with tassels is good for camping to relax under the trees and take beautiful photos sitting on it—the max. Loading capacity is 330 pounds. And it's a much lighter unit weight for you to take it anywhere.
Hanging chair with armrest
This hanging chair with polyester inside, not just only one thin fabric. Likely you are sitting on the quilted. And with solid wood bars to put your arms on to read a book. It's a nice place. The fabric is polycotton woven fabric. The max. Capacity is also 330 pounds.
Rope Chair
This kind of hanging chair is almost the same design as the above one, just only without an armrest. It's cheaper cost. Love this chair.
Rope Hanging Chair
Its handmade woven rope hanging chair is perfect for the living room, bedroom, patio, poolside and deck, etc. And to be a thoughtful, caring personal gift. The max. Capacity is 330 lbs. It can be made in other rope colors.
Rope hanging swing
Strong steel frame with hand-woven rope. The diameter of the big ring is 80cm and 60cm. The woven-net swing is comfortable. Max. load is 330 lbs. It gives you an excellent place to rest and decorate your home.
Assembled kid swing
The swing is made of a steel frame and polyester fabric. It's assembled with four parts. It's a good choice for kids and friends. This play equipment is fantastic for playing indoor and outdoors. The max. loading is 330bls too. This kind of product is suitable for mailbox packages.
It's easy to install and assemble.
Rope kid swing
Assembled with four sections and is easy to carry. Have fun for kids everywhere you go with a swing. The diameter is 100cm. Can reach 330lbs loading capacity. Easy to install and assemble. The rope can be made in different colors.
Combo Swing
The combo steel swing is made of a steel frame, and the rope is added. With big cushions feel very comfortable. The max. Loading is 450 lbs.
How to hang a chair hammock swing?
Hanging outdoor chair swings are a great addition to any outdoor space, providing a comfortable and relaxing seating option in your backyard withstand the elements. However, hanging them up can seem daunting, especially if you're unsure where to start.
Step 1: Choose a location. The first step in hanging an outdoor hanging chair is to choose a location that is safe and suitable for the chair. The location should have a strong support structure, such as a sturdy tree limb, a solid ceiling beam, or a metal stand. Ensure that the chair has enough space to swing around freely.
Step 2: Measure the distance. Measure the distance between the hanging point and the ground to ensure the chair is at the right height. A comfortable height for an outdoor hanging chair is around 18-24 inches above the ground.
Step 3: Install hardware. The hardware used to hang the chair should be rated to handle the weight of the chair and the person sitting in it. A heavy-duty eye bolt, a sturdy chain, or a strong rope are all good options. You'd ensure the hardware is installed securely and fastened to a solid structure, such as a wooden beam or a metal stand.
Step 4: Attach the chair. Next, attach the chair to the hardware. Most hanging chairs come with a carabiner or S-hook, which can be attached to the eye bolt or chain. Ensure the connection is tight and the chair is securely fastened to the hardware.
Step 5: Test it out. Once the chair is installed, please test it out by sitting in it and gently swinging. Ensure the chair is stable and doesn't wobble or tip over. If it doesn't feel secure, double-check the hardware or adjust the placement of the chair.
Step 6: Maintenance Maintain the hanging chair regularly to ensure it remains safe and secure. Check the hardware frequently to ensure it's still tightly secured and hasn't come loose. It's also important to inspect the chair for any wear and tear signs.
How much weight capacity can hanging chairs hold?
The weight capacity of a hanging chair depends on several factors, including the durable materials used to construct the chair and the hardware used to hang it.
On average, most hanging chairs load around 250-300 pounds (113-136 kilograms), although some heavy-duty models can hold up to 500 pounds (227 kilograms) or more.
It's essential to check the manufacturer's specifications for the specific hanging chair you want to determine its weight loading. You should also ensure that the hanging hardware you use, such as hooks and chains, can support the weight of the chair hammock and its occupant.
Finally, it's always a good idea to err on the side of caution and not exceed the recommended weight limit to ensure your safety while using the hanging chair comfortably.
What to Consider When Buying outdoor hanging swing chairs with stands?
When shopping for swing chairs with stands, there are several factors to ensure that you get the right product that suits your needs. Here are some of the key factors to keep in mind:
Weight capacity: One of the most important things to consider is the max. Weight loading. You need to ensure that the chair can support the weight of the people who will be using it, so check the weight limit provided by the outdoor hammock manufacturer.
Size and dimensions: You should also consider the size and dimensions of the swing chair with a stand. Make sure that the chair will fit comfortably in the space where you plan to place it and that it is large enough to accommodate the number of people who will be using it.
Material: The swing chair and stand material is also an important consideration. Look for durable, weather-resistant materials chairs made of metal, wicker, or resin, which will be able to withstand outdoor use. And the cloth is waterproof.
Comfort: Comfort is another key consideration when choosing a swing chair with a stand. Look for chairs that come with comfortable cushions or pillows and that are designed to provide ample support and relaxation.
Style and design: There are many different styles and designs of swing chairs with stands to choose from, so consider your personal preferences and the overall style of your home or outdoor space. Choose a style that complements your existing decor and adds a touch of visual interest to your space, and is portable.
Price: Finally, consider the price of the swing chair with a stand. And if it's free shipping. That's easy to deliver to your place. Look for a product that fits your budget and is affordable, but be prepared to pay more for high-quality materials and construction. Remember, a good quality swing chair with a stand can last for many years, so it can be a worthwhile investment.
Where should I set up my new hanging outdoor chair?
When choosing a location to set up your new patio chairs, I've always wanted to consider the following factors:
Safety: Make sure the location you choose is safe and stable. Look for a strong and sturdy beam or branch that can support the weight of the chair and the person sitting in it. Avoid hanging the chair from weak or unstable structures.
Space: Make sure there is enough space around the chair and it's comfortable swinging and move. Avoid placing the chair in a cramped or crowded area.
Shade and Sunlight: Consider the amount of shade and sunlight in your chosen location. You may want to choose a spot that offers shade during the hottest parts of the day, or one that allows you to enjoy the warmth of the sun.
View: Think about the view you will have from the chair. You may want to choose a location with a scenic view or one that allows you to enjoy the surrounding nature.
Privacy: Consider the level of privacy in the location you choose. You may want to choose a secluded spot and away from prying eyes.
Overall, the best location for your hanging outdoor chair will depend on your personal preferences and the specific features of your outdoor space. Take some time to explore different locations and find the one that feels the most comfortable and inviting.
Jauntyleisure will be the supplier of the above-hanging swing chairs. Welcome to contact us. We will provide the final solution for these products.
Read more: HANGING CHAIR INSTRUCTION FOR USE