When you have a hammock to hang in the backyard or camping usage, there are many kinds of hammock stands. Below the hammock stand will show you the best designs in the new year 2023.
1. Portable assembled hammock stand.
The stand can be matched for a hammock with or without wooden spread bars. It is made of powder-coated steel tubes, preventing rust and wet weather. The size is: 9.8 feet long. You can assemble it without tools quickly. Each tube connected with the joints locks spring-snap.
Pros:
Assembled easily
Used for all kinds of single hammocks.
Cheap cost with a big loading capacity of 120kgs/265lbs.
2. Strong "cow horn" portable hammock stand.
This hammock stand is adjustable and can be assembled with only five powder-coated steel tubes; you don't need tools. There are seven holes on each side of the tube to adjust the end hammock rope. Then you can choose the height you like. It's packed in a carry bag and one set into a carton box. It also can be made in color box packages.
Its size is 9 feet, and its loading capacity is 150kgs/330lbs.
Pros:
Adjustable and portable
Strong powder-coated tubes.
Easy to assemble and take down.
3. Steel white hammock stand
Assembled with screws but doesn't need any tools. The stand can be packed in smaller packages; it's a good choice for the backyard.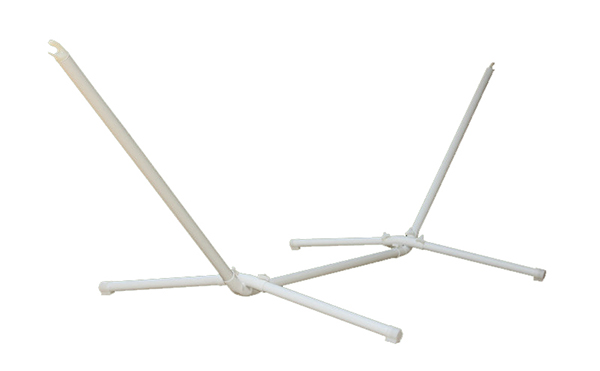 Pros:
Very easy to be assembled
It can be used to camp, at home, or in backyard places.
Its length is also 9 feet to fit for single hammocks.
4. Adjustable hammock stand
The stands can be adjusted of the length:9.5feet to 12.8feet and height from 3.2feet to 4.43feet. It's a universal hammock stand. It can be used for single or double hammocks.
Pros:
Very easy to assemble
Adjustable size of all kinds of hammocks.
Portable for anywhere
5. Solid wooden hammock stand
If you want, have the stand be more slap-up. This one is the best choice for you. It's made of Larch solid wood, and it's corrosion prevention. The hammock stand only can be used at home with a unit weight of 42kgs, and you can leave it in backyards always. We can make single or double sizes from length 11.8feet to 13.8feet. It requires hand tools to make all the solid wood parts joined together with big screws.
Does the hammock stand worth it to buy?
When you find suitable places to hang hammocks, but now available. When you see two trees, distances are reasonable to hang a hammock but don't have tree straps. When you are at home, any places are fittable to hang a hammock. Now the hammock stands are worth having. And It doesn't take up too much of your space.
Points to focus on before buying a hammock stand.
The hammock stand and hammock length must be matched. It can't be too long or too short of each other. If the hammock stand length is 300cm, then the hammock's total length should be 285-295cm. Two persons pull the hammocks straightly total length is 290cm. The hammock's total length needs 15-10cm shorter than the hammock stand length.
There are single and double hammock stand sizes.
Most hammock stands are steel and cheap; you can also choose a solid wood stand. The solid wood stand is more strong and more durable.
Single hammock stands generally reach 100kgs-120kgs. And two-person size will go 200kgs to 250kgs. You can choose the double size and enjoy the fun with your families.
Most stands are portable and easy to be assembled. Then you can choose one portable for camping to enjoy a lovely weekend with friends.
Whether it's for your use or business, here's your choice of hammock stand, our company Jauntyleisure will be the final solution for you.
READ MORE: How To Tie The Knot And Hang A Hammock On A Tree?