Take a hammock to camp. I was going to tie the hammock between two trees and relive the fun of hammock camping! But the embarrassing thing is, I don't know how to tie the knot… After the hammock is tied to the tree, once the person sits on it, the knot will be loosened; how to do this?
Now below article will teach you a simple and environmentally friendly way of knotting.
Take a parachute nylon hammock as an example; this hammock is lightweight, breathable, and the best choice when traveling.
In order to reduce the damage of the hammock to the tree, we recommend this flat tree strap design, which can be wrapped around the tree in multiple circles, sharing the weight of the human body evenly on the trunk of the tree.
How to tie a hammock tree strap?
1. place the tree strap around the selected trunk with the greatest possible distance between the straps so as to maximize weight distribution.
2. pass the securing strap through the front buckle。
3. adjust according to demand, hanging hooks on the appropriate buckle.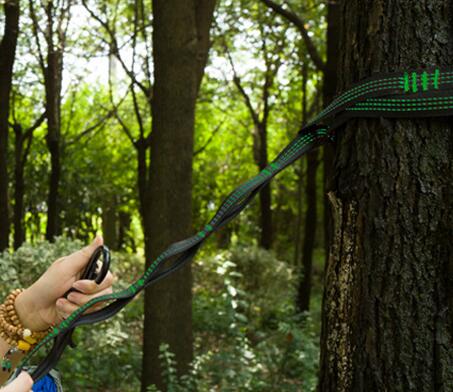 4. Start enjoying your leisure time!