Hammock chairs and stands can be an excellent addition to any outdoor or indoor space for relaxing and unwinding. Hammock chairs offer a comfortable and cozy spot to lounge and read a book or enjoy the view, while the stands provide a sturdy and safe place to hang the chair. Hammock chair stands come in various styles and sizes, so knowing which one is right for you can take time and effort. Now we will look at the 8 best hammock chair stands available today.
Top 8 Best Hanging Chair Stand Perfect for Relaxed Summer 
1. Best Overall: Jaunty Leisure Adjustable Hammock Chair Stand
The Adjustable Hammock Chair Stand is a versatile and durable option that can hold up to 450 pounds. It is made from powder-coated steel and comes with an adjustable height feature that allows you to customize the height of your hammock chair. This stand is easy to set up and take down.
2. Best for Indoor Use: Heavy Duty Hammock Chair Stand
Heavy Duty Hammock Chair Stand is a stylish and sturdy option that is perfect for indoor use. It is typically made from strong and durable steel materials. It's rust-resistant. Support at least 500 pounds weight capacity or more to ensure that they can accommodate larger individuals or multiple people at once.
3. Best for Outdoor Use: Multifunctional hanging swing stand
It is a versatile and durable option perfect for enjoying the outdoors. It can load up to 330 pounds. For hanging children's swings and adults hang chairs for relaxation, etc. usage.
4. Best for Small Spaces: Fabric hammock chair style stand.
A fabric hammock chair-style stand is an excellent choice for small spaces. They're comfortable, versatile, and durable and can be a stylish addition to any home decor. And can be packed in a carrying case.
5. Best for Large Spaces: Hammock chair stand
It is a spacious and durable option that is perfect for large spaces. If you have a large outdoor space and want to take advantage of it, a hammock chair stand is an excellent option. These stands are usually designed to accommodate a woven hammock chair, giving you a comfortable and stylish relaxing place. They're also incredibly versatile and can be moved around your yard as needed, allowing you to enjoy your space differently. These stands are also easy to assemble, so you can get your new hammock chair up and running quickly. Weight capacity reaches 450 pounds. Whether you're looking to read a book, nap, or soak up some sun, a hammock chair stand is an excellent choice for large outdoor spaces.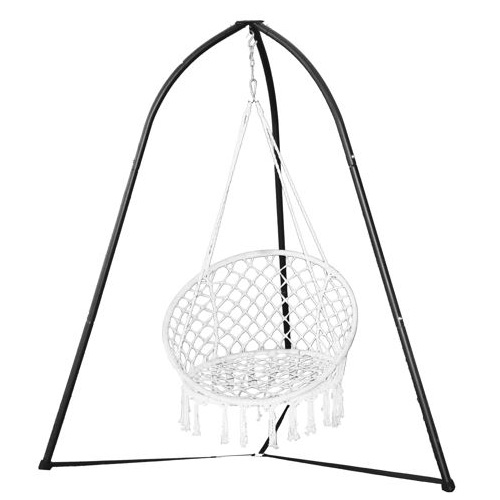 6. Best Value:
Many options are available for hammock chair stands, and the best value will depend on your specific needs and budget. This stand is also relatively affordable compared to other options on the market.
7. Best for Portability:
While a hammock chair stand may offer more stability and convenience for indoor use, there may be better options for portability. A hanging kit or a portable stand may be a better choice depending on your specific needs.
8. Best for Aesthetic Appeal:
If you are finding a hammock chair, or stand that offers the best aesthetic appeal, then look no further than one with a steel frame. Hammock chair stands made of metal are the perfect place to relax and unwind. They offer a unique combination of style and comfort and can provide a delightful accent to any outdoor or indoor space. Steel frame hammock chair stands are designed to fit most hammock chairs and have a weight limit that makes them suitable for both children and adults. They are strong and durable, and their sleek construction adds a modern touch to your home decor. It's weather resistant. A portable hammock chair stands with a steel frame is the ultimate choice for aesthetics and luxury, making it perfect for anyone looking to add a touch of elegance to their relaxation time.
Factors to Consider When Selecting the Optimum Hammock Chair Swing Stand.
When selecting the optimum hammock chair swing stand, there are several factors to consider:
It is important to ensure that the stand can support the weight and size of the swing chair, so it is essential to check the weight limit of the stand.
The stand should be made with high-quality materials that are resistant to outdoor elements, such as rust and corrosion. If you plan to move the swing chair frequently, consider a stand that is also portable.
It is important to ensure that the stand is compatible with your particular type of hammock swing, whether a traditional hammock or a hanging chair.
When choosing your outdoor furniture, the right hammock chair swing stand can make all the difference in your relaxation and comfort.
Hammock Chair Stand is a lightweight, portable option perfect for outdoor enjoyment.
If you love hammock chairs but don't have a spot to hang them in your yard or porch, consider getting a hammock chair stand. Unlike standard hammock stands, the hammock chair stand is a lightweight and portable option perfect for those who want to take their hammock chair on the go. These stands come in several different styles and sizes, so you can easily select one that fits your needs. The stands featured are weather-resistant and easy to clean, as they are steel-made. The frame made of steel ensures the hammock chair is stable when in use, even if you have not got anything to hang it from. So if you're looking for a good way to enjoy your hammock chair wherever you go, consider investing in a hammock chair stand.
How High Should a Hammock Chair Stand Be?
When it comes to hammock chairs, it's important to consider the height at which you hang them. To experience optimal comfort, the perfect way is to hang the chair at a height that allows your feet to graze the ground when you're sitting in it. This way, you can quickly get in and out without worrying about falling, preventing you from feeling cramped or constricted. Whether you hang the hammock chair from a tree branch, a porch beam, or a dedicated stand, make sure that the height is adjustable and that it comes complete with all the necessary hardware. This way, you can adjust the height as needed, especially as the sun moves throughout the day or on hot days when you want to hang the chair a bit higher for more breathable airflow.
Can I Leave My Hammock Chair Stand Outside Year-round?
Hammock chair stands are designed to be used indoors and outdoors, but keeping them outdoors year-round depends on several factors. Most stands are made from durable materials, including steel or metal, making them strong and sturdy. Hammock chair stands are designed to take up much space, so it is essential to have enough space to accommodate them. Before purchasing a stand, ensure it fits in the outdoor space where you want to use it. In addition, hanging hardware is usually exposed to outdoor elements, which can lead to corrosion and rust. Check the stand's weather resistance, it should withstand harsh weather conditions such as rain, snow, and sunlight for extended periods. With proper maintenance and care, hammock chair stands can be left outside throughout the year.
As a dedicated supplier of premium leisure products, Jaunty Leisure invites you to explore our handpicked range that combines durability, aesthetics, and functionality products, contact us for more information.
Read more: Top 10 Portable Hammocks with Stands for Camping Enthusiasts
Top One 15ft Hammock Stand for Ultimate Comfort and Relaxation