Installing hanging chairs at home is a great way to add some extra seating and relaxation to your home. Not only are they comfortable and stylish, but they're also a great way to make the most of your indoor or outdoor space.
While they sound like a great idea, how do you install them? Thankfully it's not too difficult. Here's how to install a hanging chair in just a few easy steps.
Before you purchase a hanging chair, there are several things you should take into consideration. First, consider where you will be placing the chair. If you want to use it indoors, ensure you have enough ceiling height.
You will also need to choose a spot that can support the weight of the chair and occupants. For outdoor chairs, look for a sheltered location from strong winds. You will also need to ensure the frame is securely fastened to a stable support.
Another important factor to consider is comfort. Make sure the chair is large enough to accommodate your body size, and look for features like padding and adjustable headrests.
Finally, consider your budget. Hanging chairs can range in price, so make sure to choose one that is affordable for you.
What You Need to Install a Hanging Chair
Before you get started, here's what you'll need.
Eye screw – This is screwed into a ceiling joint and needs to support all your weight
Chain connectors – You'll need two S-hooks or carabiners to attach the rope to the eye screw and the hanging chair.
Stud finder – This isn't essential, but it will help you to find a ceiling joist
Electric drill – To install the eye screw.
Chain/rope – If your hanging chair doesn't have a chain or rope, you'll need to buy one separately.
Now that we know what you need, here are the steps you need to take.
3 Steps to Install Hanging Chairs at Home
Step 1: Find the Right Spot
Before installing a hanging chair, you need to find a ceiling joist. The simplest method to do this is with a stud finder. If you don't have a stud finder, you can also try tapping on the ceiling until you find a solid spot.
Once you've found a solid spot, use a pencil to mark the location of the joist. After this, use a drill to create a pilot hole for your screw. Make sure you find the middle of a ceiling joist, as this will give you the maximum support and stability.
Step 2: Install a Screw Eye
Installing a screw eye into a ceiling joist is easy. As we mentioned, you should now have a pilot hole for your eye screw.
Next, insert the screw eye into the pilot hole and tighten it with a wrench. Be sure to check that the screw eye is secure before attaching the chair. The screw will most likely need to take a lot of weight, so double-check it has been installed correctly.
A ceiling mount with four bolts is an alternative to a screw eye. These can have a stronger hold but are a little more difficult to install and aren't as stylish. Also, if you have thin ceiling joists, you may not have the space to install one.
Step 3: Attach the Hanging Chair Rope
The next step is attaching the rope to the screw eye. Once the screw eye is secure, thread the rope through the eye and tie it off with a knot. If the eye is not big enough to do this, you'll need to add a carabiner or S-hook to the crew eye.
If you have a chain, then the process is even easier. Add a carabiner (or S-hook) to the screw eye and then attach the chain. At the other end, attach another connector which you'll then use to attach to your hanging chair.
Step 4: Test it Out
If your installation is going to fail, then it will most likely do so very quickly. Therefore, it's a good idea to test it out. To do this, sit in the seat and shift your weight around. Don't jump up and down on the chair, as this could mean it exceeds the maximum weight it's designed to hold.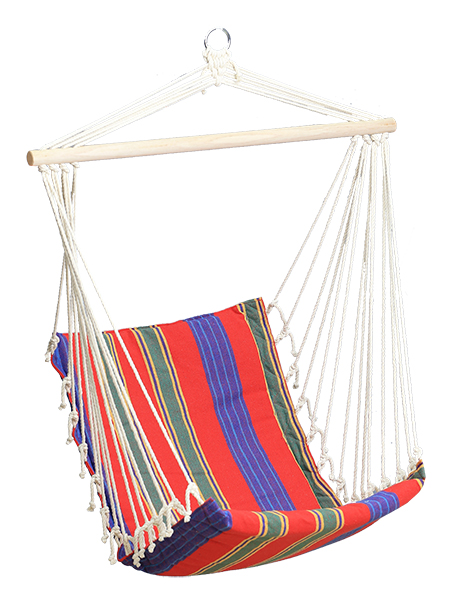 How to Install Hanging Chairs Outdoors
Nothing says summer like relaxing in a hanging chair. Whether enjoying a book, taking a nap, or simply admiring the view, hanging chairs offer a unique and enjoyable way to while away the hours. If you're lucky enough to have a porch or patio, installing a hanging chair is a relatively easy project that anyone can do.
The process here is the same as indoors. First, you need to find a strong joist to support your weight. If you can't find one, it may be better to use a stand instead. If you have a strong joist, install your eye screw using the above methods.
Should I Use a Hanging Chair Stand Instead of Installing a Hook?
When deciding whether to use a hanging chair stand or install a hook in your ceiling, there's plenty to consider. First, think about where you want to put your hanging chair. If you have a specific spot in mind, you'll need to ensure enough clearance for the stand or hook.
Second, consider how often you plan on using the chair. If you are using it very often, you might want a stand's stability. On the other hand, if you only plan on using it occasionally, then a hook might be more convenient.
Finally, think about your budget. Stands can be expensive, so a hook might be the better option if cost is a concern. Ultimately, there's no right or wrong answer when choosing between a stand and a hook, it's just a matter of personal preference.