Nowadays, many brands, wholesalers, manufacturers, distributors, retailers, etc., import directly to make more profit in their business. If you are looking for hammock, and hammock chair suppliers in China and want to import hammocks and other outdoor products directly, here are the procedures you need to do for importing. I hope this article will help you.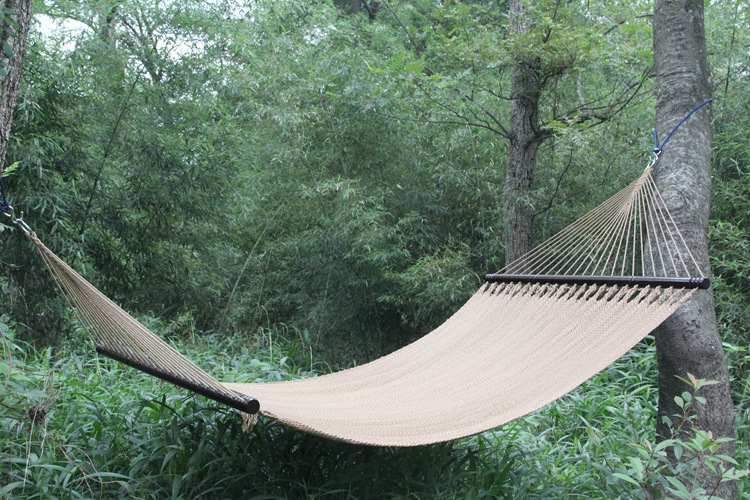 When you are choosing a hammock supplier, either factory or trading company. Both are ok, Depending on the following:
The products price;
Quality;
MOQ;
Service;
After-sale service;
Payment term;
Packaging;
Shipping terms;
Delivery time etc.
If all questions meet your needs. Then it will be an excellent and reliable hammock supplier.
2. Confirm all the product details for the hammocks.
If you want to test the quality of the products, you can ask for a sample for an order. And confirm the hammock details before the order like:
Hammock size;
Hammock color;
Hammock package;
Labels and color insert needs;
Hammock quantity you will order.
The load capacity of the hammocks.
3. Payment term
It's an essential factor in the payment term. Most the China suppliers require a 30% deposit and 70% against the copy of the full shipping documents.
Another payment term in normal use is L/C at sight.
Besides the above payment term, there are more flexible ones like 100%TT upon the shipping documents; L/C after sight. OA terms etc.
4. Arrange inspection before shipment
Inspection is necessary to work on a shipment. There are a few ways you can do this:
If you have a local China office, then you can make an inspection by your office personnel.
Issue the inspection report by the factory;
Hire and use the third part inspection company to make the fees around $300 per day.
5. Arrange Cargo Transport
The normal incoterm is FOB term. That is the freight collected. Then it would help if you found a forwarder to offer your freight charges. And the supplier will be in charge of the local transport, and you pay the ocean freight or air freight. Freight forwarders will manage the cargo to consolidate in LCL or FCL shipment.
6. Customs Clearance for the shipment
It's important to make customs clearance with the right documents and procedures. If not, you will risk having your goods detained or examined. It's better to make the customs clearance fast. If your goods are not picked up within 15 days of arrival, they will be sent to the general order warehouse. If the goods aren't picked up after six months, then the goods will be discarded or sold at auction.
Importing goods from China is a good way to make business more profitable, and if you haven't ever made the import, then you can find an agent to help you to make all the procedures.