Only the right hammock can give you the best treatment. However, picking the right hammock can be tiring, especially if you are buying it for the first time.
You are probably thinking of how to choose the right hammock, even on your first attempt. Relax; we are here to make that easy for you.
There are crucial things to put into consideration. This article will guide you through the process of picking the right hammock. However, before we get down to the real deal, let's consider why you need a hammock.
Why you need a hammock
There are countless reasons you should get a hammock. A few of them are outlined below.
Portability
Hammocks are easy to move around. It is the best sleeping solution for any of your outdoor activities. They require little time to set up.
Durability
Hammocks are strong and long-lasting. If a hammock is appropriately maintained, it can last up to twenty years.
A great relief to back pain
A hammock is built to allow the natural sleeping posture of the human body. Hence, it supports the back, lessening the pressure on it.
Variety
Hammocks come in different colors, styles, and qualities. You can choose one that fits your needs and lifestyle.
Affordability
You can make a choice, depending on your budget, from the wide range of available hammocks. You can even weave one for yourself- it's that simple!
Stress Reduction
Hammocks oscillate naturally, which helps to relax better, reduce stress levels, and lower blood pressure. Additionally, they can help you fall into sleep conveniently.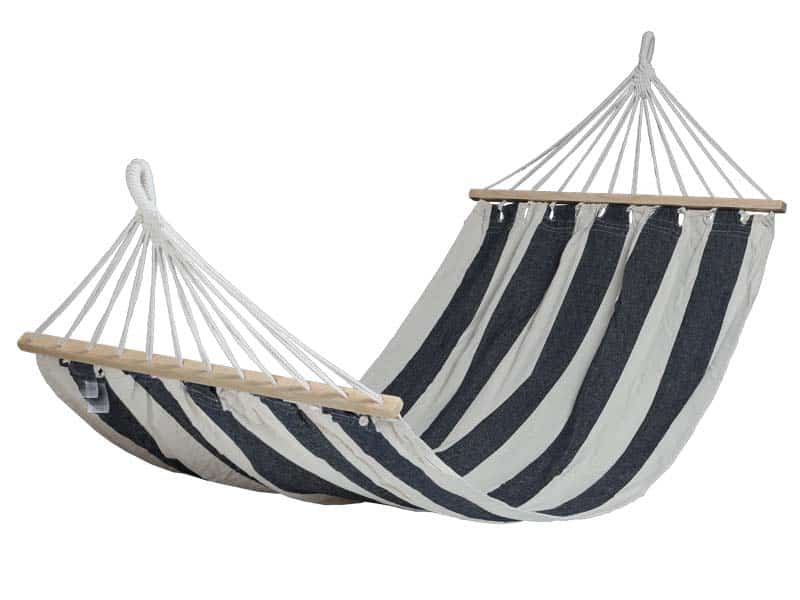 Considerations when choosing a hammock
The factors below will help you to select the right hammock for your lifestyle and comfort needs.
Purpose
Your choice of hammock must suit your intended use. We would consider two forms of hammocks, which are:
● Lounging Hammocks
If you need a hammock for reading, relaxing, and spending time with friends, a lounging hammock is the best option. These hammocks are designed to perform less strenuous tasks. However, ensure that your choice of hammock is lightweight, breathable, and made of quality materials.
Lounging hammocks are of two sizes, 70 inches wide and 11 feet long, or 58 inches wide and 11 feet long.
● Camping Hammocks
A camping hammock is fabricated to allow its user to sleep flat. It is the ideal hammock for camping trips. Camping hammocks are geared with different accessory packages and designs that make them suitable for a comfortable sleep. They are made of ripstop nylon, a featherweight, and weather-resistant fabric.
A camping hammock also protects from ground complications and bugs. This gives you a fun-filled experience with no disturbance.
Size
You must choose the right size for your weight and height. An important decision to make when picking the right size is choosing between a single hammock and a double hammock. The tips below help to make this decision.
• Single Hammocks
Single hammocks have a width of about 4 to 5 feet. Their weight capacity ranges from 300 to 400 pounds, with the lightest at 250 pounds. It offers a less spacious sleeping experience, making it ideal for only a person at a time. It has a featherweight compared to a double hammock.
•Double Hammocks
These are more spacious than single hammocks, offering a sleeping or lounging experience for two people at a time.
The weight capacity of a double hammock ranges from 350 to 500 pounds, 350 pounds being the lightest weight. It may not be the best option for a single camper because of its weight.
• Hammock Length
The best hammock, when considering the length, is one that is two feet longer than your height.
Accessories
You need to get some accessories along with your hammock. Most accessories will work with any hammock brand. However, ensure that you go through the product description to be sure. Also, pay attention to the accessories' quality, durability, and sturdiness. Below are some of the accessories:
• Suspension
The basic suspension systems for a hammock are tree straps and buckles or carabiners and hammock stands. Ensure that your tree strap has a width of at least 0.75 inches because thinner straps can damage trees.
• Ridgelines
Ridgelines help to hold bug nets or tarps in place. They are of two kinds, fixed and adjustable, which serve different purposes.
• Insulation
Insulation systems are essential if the weather is icy or rainy. An underquilt or a sleeping pad provides you with warmth and comfort.
Rainflies and tarps are also essential, as they hinder wind, rain, or snow from tampering with your body warmth.
• Hangles
Hangles help hammock ropes to hang downward at 30 degrees which is the best position according to research.
• Bug nets
A 360-degree bug net protects you from natural inhabitants that could harm you. Bug nets can be detachable or attached. Detachable ones are better because they are removable when bugs aren't intruding. However, some people prefer attached bug nets to detachable ones because they camp in places with bugs and little suckers all the time.
Quality
For sturdiness and durability, you should get a quality hammock. The higher the denier number of a hammock, the heavier the quality of the fabric and the more durable it is. For instance, a 30-denier fabric wears out more quickly than the same type of fabric with a 70-denier number if subjected to rough use.
Versatility
The length of a hammock and its straps determine the number of places you can hang it. This defines the versatility of the hammock. So, the longer, the more versatile.
Also, you need to put the number of loops in the straps into consideration. Straps with buckles are more versatile than others.
Take away
You have done well to read this article before buying a hammock. Now that you know the factors to consider when purchasing, you will make the right decision. Ensure you purchase a quality hammock from a reliable supplier like Jaunty Leisure. At Jaunty leisure, we supply durable and versatile hammocks that offer maximum comfort.