Hammocks are the epitome of relaxation and comfort. Whether you're lounging in your backyard or going on a camping trip, having a hammock can greatly enhance your experience. However, choosing the right hammock with a portable stand can be a daunting task, given the wide variety of options available in the market. In this article, we will guide you through the process of selecting the best hammock with a portable stand that meets your needs and preferences.
1. Choosing the Right Hammock Stand
Selecting the perfect hammock stand is the first step toward achieving ultimate relaxation. But with so many options on the market, how do you choose? The choice largely depends on your needs and preferences. Are you planning to use it for camping, lounging in your backyard, or taking it to the beach? Let's explore some key considerations.
If you're looking for a stand that's versatile and can be set up almost anywhere, consider a portable hammock stand. These stands are designed with convenience in mind and often come with a carry case or bag for easy transportation. Some popular options include the Kammok Swiftlet, Amazon Basics Portable Folding Hammock, and the Republic of Durable Goods Portable Folding Camping Hammock.
2. Portability and Convenience
One of the primary reasons to opt for a portable hammock stand is, of course, its convenience. Portable stands are designed to be compact and lightweight, making them ideal for travelers, campers, and outdoor enthusiasts. Whether you're planning a day at the beach, a camping trip, or simply want to enjoy a hammock along with your nature adventures, a portable hammock stand is the way to go.
3. Durability Matters
When investing in a hammock stand, you'll want it to last. Durability is a key factor to consider, especially if you're planning to use your hammock frequently or in rugged outdoor environments. Look for stands made from heavy-duty materials like steel or aluminum, which can withstand the elements and provide long-lasting support. The Republic of Durable Goods Universal Multi-Use Heavy-Duty Steel Hammock Stand is a prime example of a robust and durable option.
4. Weight Capacity: How Much Can It Hold?
No one wants a hammock mishap, so it's crucial to ensure that your stand can safely support your weight. Most portable hammock stands have weight capacities ranging from 200 to 500 pounds, depending on the design and materials. Be sure to check the weight capacity of your chosen stand to ensure it can accommodate you comfortably.
5. Hammock Styles: Single vs. Double
Hammocks come in various styles and sizes, with single and double hammocks being the most common. If you're a solo adventurer, a single hammock is usually sufficient. However, if you plan to share your hammock with a partner or enjoy extra space for yourself, a double hammock is the way to go. Ensure that your chosen portable stand can accommodate the size and weight of your hammock.
6. Setting Up Your Portable Hammock Stand
Setting up a portable hammock stand should be a breeze, and many models offer a hassle-free assembly process. Look for stands with adjustable points on each arm, allowing you to customize the height and tension of your hammock. The Kammok Swiftlet, for example, was designed with ease of use in mind, ensuring that you can quickly set up and tear down your hammock wherever your adventures take you.
7. Top Picks in Portable Hammock Stands
Now that you have a better understanding of what to look for in a portable hammock stand, let's explore some of the top options available in 2023.
Jaunty Leisure Stand
The Jaunty leisure stand is a camper's dream come true. This portable hammock stand offers a lightweight and compact design, making it easy to carry on your outdoor adventures. It comes with a travel bag for added convenience and is set up in minutes. With a weight capacity of up to 300 pounds, it's suitable for most individuals and provides a comfortable and secure hammocking experience.
Amazon Basics Portable Folding Hammock
For those on a budget, the Amazon Basics Portable Folding Hammock offers an affordable yet reliable option. It's perfect for lounging in your backyard, at the beach, or on camping trips. This hammock stand is easy to set up and tear down and includes a carry case for transportation. With a weight capacity of 200 pounds, it's ideal for solo relaxation.
Republic of Durable Goods Portable Folding Camping Hammock
If durability is your top priority, the Republic of Durable Goods Portable Folding Camping Hammock has got you covered. Made from heavy-duty materials, this stand is built to withstand the rigors of the great outdoors. It offers versatility and convenience, making it an excellent choice for camping enthusiasts. With a weight capacity of up to 500 pounds, it can comfortably accommodate most campers.
8. Accessories for the Ultimate Hammock Experience
To elevate your hammocking experience, consider investing in some accessories. Hammock straps, cup holders, and travel bags are just a few options to enhance your relaxation. Make sure you have enough hammock straps to secure your hammock between two trees or posts securely. Additionally, a cup holder attachment can keep your favorite beverage within arm's reach while you unwind.
9. Maintenance and Care
To ensure the longevity of your portable hammock stand, it's essential to take proper care of it. Keep it clean and dry, especially if it's exposed to the elements. Inspect it regularly for any signs of wear and tear, and address any issues promptly. By following the manufacturer's maintenance guidelines, you can enjoy years of hammocking bliss.
10. Hammock Your Way to Relaxation
In 2023, portable hammock stands have taken relaxation and outdoor comfort to the next level. Whether you're a seasoned hammocker or new to the game, choosing the best portable hammock stand can make all the difference in your outdoor adventures. Remember to consider factors such as portability, durability, weight capacity, and your specific needs when making your selection.
With options like the Kammok Swiftlet, Amazon Basics Portable Folding Hammock, and Republic of Durable Goods Portable Folding Camping Hammock, you're sure to find the perfect portable hammock stand for your relaxation needs. So, pack your hammock, grab your favorite book, and get ready to hammock your way to relaxation in style in 2023!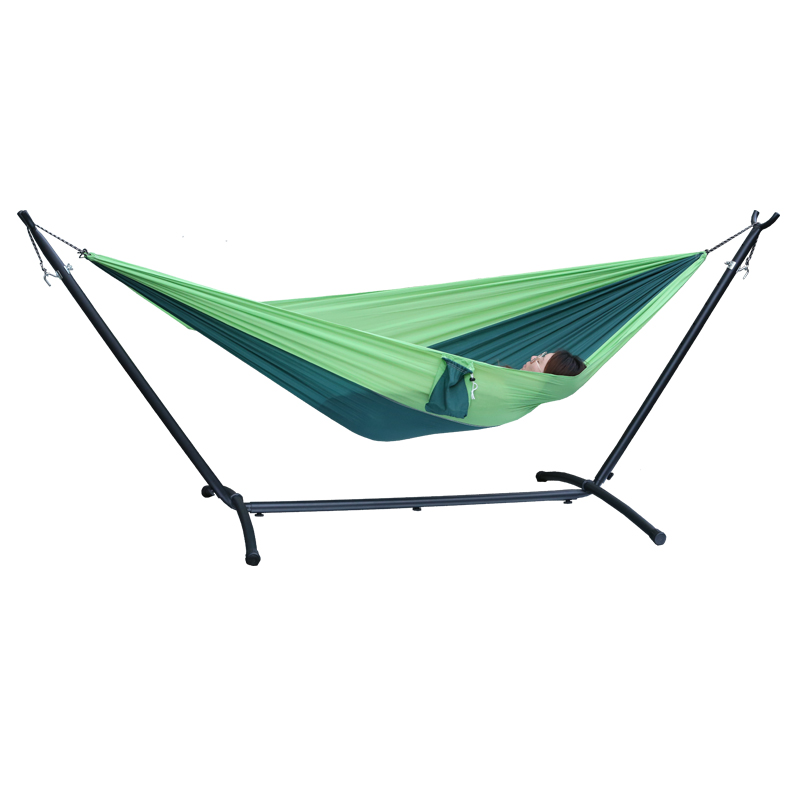 The Benefits of a Portable Stand Hammock
Before we dive into the selection process, let's touch on why you might want a hammock with a portable stand. These versatile relaxation tools offer:
Portability: You can set them up anywhere without the need for trees or permanent fixtures.
Ease of setup: Most come with simple instructions and require no tools for assembly.
Versatility: Use them for camping, beach trips, or backyard lounging.
Comfort: Hammocks provide a comfortable place to relax and sleep, often promoting better posture and reducing pressure points.
Key Factors to Consider When Choosing a Hammock with Portable Stand
1. Material and Durability
The first factor to consider when choosing a hammock with a portable stand is the material. Polyester and cotton are common materials used in hammocks. Polyester hammocks are durable, water-resistant, and quick-drying, making them suitable for outdoor use. Cotton hammocks, on the other hand, are comfortable and breathable, but they may not withstand the elements as well as polyester.
The material of the stand also matters. Look for stands made of steel or aluminum for maximum durability and stability.
2. Size and Weight Capacity
The size of the hammock and its weight capacity are crucial factors to consider. If you're planning to use the hammock alone, a single hammock will suffice. However, for couples or those who want more space, a double hammock would be a better choice.
Check the weight limit of the hammock and stand. Most can hold between 200 to 500 pounds. Make sure the hammock you choose can comfortably and safely accommodate your weight.
3. Portability and Ease of Assembly
A hammock with a portable stand should be easy to transport and assemble. Look for a model that comes with a carrying case and has a lightweight stand. A good portable hammock should also be easy to assemble and disassemble without the need for additional tools.
4. Comfort
Comfort is subjective and depends on personal preference. Some people prefer the traditional rope hammocks, while others find quilted or padded hammocks more comfortable. The choice of a spreader bar hammock or a Brazilian style hammock can also affect comfort.
When it comes to choosing the right hammock with a portable stand, there are various factors to consider. From the type of hammock and its weight capacity to the durability and portability features, each aspect plays a crucial role in making an informed decision. By considering these factors and researching different brands, you can find the best hammock with a portable stand that suits your needs and provides the ultimate relaxation experience. So, get ready to hammock anywhere and enjoy the beauty of nature in the most comfortable way!
Read more:
10 Portable Hammock Stand Trends You Need to Know About(2024)