Are you a hammock enthusiast looking to upgrade your outdoor relaxation experience? It's time to check out the best hammock accessories of 2023. We've done the research for you and have compiled a list of top hammock accessories that you can't miss. From hammock carabiner knots to hammock underquilts, we've got you covered. Let's dive in!
1. Hammock Carabiner Knot
The hammock carabiner knot is an essential accessory for any hammock enthusiast. It helps you easily attach your hammock to a tree or a stand, ensuring a secure and comfortable hang. The best carabiner knots are lightweight, durable, and easy to use. Our top pick for 2023 is the Jaunty Leisure Ultra-Light Carabiners Knot. Made from high-quality aluminum, it's perfect for any adventure, whether you're hiking, camping, or chilling in your backyard.
2. Hammock Cinch Buckle
The hammock cinch buckle is another must-have accessory that allows for quick and easy adjustments of your hammock's tension. It's made from heavy-duty stainless steel and can withstand harsh outdoor conditions. With the cinch buckle, you can hang your hammock at the perfect height and angle for maximum comfort with hammock camping.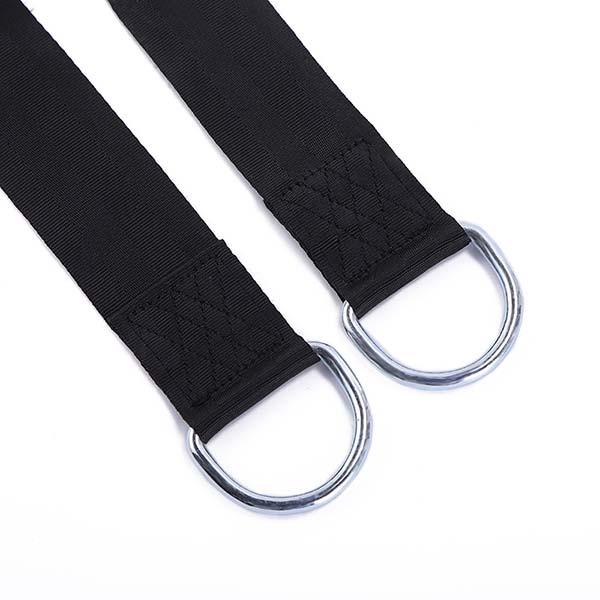 A hammock stand is a versatile accessory that lets you hang your hammock anywhere, even if there are no trees in sight. The portable Hammock Stand is our top choice for 2023. This lightweight, easy-to-assemble stand is made from durable steel and can support up to 450 pounds. It also needs hammock stand hooks to hang hammocks. With its compact design, you can take it with you on your next camping trip or set it up in your backyard for a relaxing staycation.
Hammock straps are crucial for ensuring a secure and damage-free setup. The tree-Friendly Hammock Straps are our favorite choice for 2023. Made from strong polyester webbing, these straps protect the trees from damage while providing a secure and stable hang. They are also easy to adjust, so you won't have any trouble finding the perfect hammock suspension straps. It must-have hammock accessories. You pick your place to camp, loop the strap around the tree, and slot one end through the other.
How to Choose the Best Straps Gear You Need for Hammock Camping?
Here are some tips for selecting the best hammock camping accessories straps for hammock camping:
• Length. Get long enough straps for the trees you intend to hang from. Generally, straps 10-15 feet in length will work for most situations. Longer straps, 15-20 feet, give you more flexibility and the ability to hang from larger trees farther apart.
• Tree diameter. Consider the thickness of the trees you expect to hang from. Straps that are 1 inch thick are good for most trees. Wider straps, 1.5 to 2 inches, distribute the weight better on larger trees.
• Strength. Look for straps that are rated for the weight you intend to put in the hammock. A minimum rating of 2000 lbs is good for most hammock campers. Higher ratings of 3000-5000 lbs provide extra security.
• Material. Popular options for hammock straps include nylon and polyester webbing. Nylon is strong and stretch-resistant. Polyester is also durable and weather-resistant. Either material will work well. Some straps also have daisy chains which provide multiple attachment points.
• Buckles. Quick-release buckles or carabiners make setting up and taking down your hammock easy. Look for high-quality, rated carabiners that won't bend or break under the weight.
• Tree protection. Some hammock straps come with tree protectors that prevent damage to the tree bark. These are a nice feature, especially if hanging from trees with soft bark. You can also buy tree protector sleeves separately.
• Ease of use. Look for straps that are easy to wrap around trees and securely attach to your hammock. Straps with multiple loops or daisy chains give you more options for finding the perfect hanging angle. Clearly marked end loops also make setup simpler.
• Weight. Lightweight hammock straps are more convenient for hiking and backpacking. Some high-quality straps weigh under 10 ounces. Heavier straps, while still light, may weigh 1 pound or more.
• Price. You'll pay between $20 to $50 for a good set of hammock straps. Higher price often means greater strength, durability, and extra features like tree protectors.
5. Hammock Bug Net
If you love spending time in your hammock but can't stand the pesky bugs, setting up your hammock bug net is your perfect accessory. The 360-Degree Protection Hammock Bug Net protects mosquitoes, flies, and other insects completely. With its easy-to-use zipper and high-quality mesh material around your hammock, you can relax in your hammock without worrying about insect bites.
6. Hammock Rainfly Tarp
A hammock rain tarp is essential for those who love camping in their hammocks, as it provides protection from the elements. The All-Weather Hammock Rain Tarp is our top pick. Made from durable, waterproof material. This tarp is designed to keep you dry during unexpected downpours. It's a large size, and easy-to-use guy lines ensure plenty of coverage, even in windy conditions. Rectangular tarps are the most commonly used to cover hammocks, as they resemble tents and can be hung over the ridgeline of a hammock.
It is also suitable for camping and backpacking. The possible applications of paracord for camping are endless. In the case of hammock camping, employing a section of paracord can ensure a secure suspension for your hammock or rainfly.
7. Hammock Underquilt
Last but not least, a hammock underquilt is an essential accessory for staying warm and cozy during cold nights. The Insulated Hammock Underquilt is our favorite. Made from high-quality synthetic insulation, this underquilt is designed to keep you not cold and comfortable in temperatures as low as 20°F (-6°C). Its adjustable suspension system ensures a perfect fit, and its compact size makes it easy to pack and carry on your next adventure.
In conclusion, investing in high-quality hammock accessories can significantly enhance your outdoor relaxation experience. With the right combination of hammock carabiner knots, hammock cinch buckles, hammock stands, hammock straps, hammock bug nets, hammock rain tarps, and hammock underquilts, you'll be well-prepared for any adventure that comes your way. So, grab your favorite hammock and hit the great outdoors with these accessories. Overall, you get to experience a more comfortable camping experience in a hammock while also preserving the exquisite surroundings you're bedded in.
How do you know which best hammock accessories are compatible with your hammock?
To know which hammock accessories are compatible with your hammock, there are a few things you need to consider:
Hammock Type: Different types of hammocks, such as Brazilian, Mayan, and camping hammocks, may require different accessories. So, you need to know the type of hammock you have before you can determine which accessories will work with it.
Hammock Size: The size of your hammock also matters when it comes to choosing accessories. Some accessories are designed to fit specific hammock sizes, so you need to know your hammock's dimensions to ensure the accessory you choose will work with it.
Hammock Material: The material of your hammock can also play a role in compatibility. For example, some hammock straps may not work well with certain types of fabric.
Weight Capacity: The weight capacity of your hammock is also important when choosing accessories. Some accessories, such as suspension straps, are rated for specific weight capacities, so you need to make sure the accessory you choose can safely support your weight.
To ensure compatibility, it's always best to check the manufacturer's specifications for both your hammock and the accessory you're interested in purchasing. If you're unsure, you can contact the manufacturer or a retailer specializing in hammock gear you need for advice.
What do you put on a hammock?
When preparing to relax in an amazing hammock and suspend your hammock, you'll need a few necessary accessories to get the most out of it. Firstly, tree straps should be able to support the weight of the hammock and provide a secure fit around the tree. This will prevent any accidents and ensure you have a peaceful rest. Additionally, hammock accessories for camping can be a great addition if you plan to use your hammock for your camping needs. These can include mosquito nets, insulation pads, and rain tarps to protect and comfort you. Ultimately, the only thing you need to put on your hammock is yourself, but with a few accessories, you'll be able to make the most out of your relaxation time.
Is it OK to sleep in a hammock while camping with the hammock suspension system?
It is absolutely okay to sleep in a hammock while camping as long as you have a sturdy hammock suspension system in place. Hammocks are designed for sleeping, and they offer a comfortable and lightweight alternative to traditional camping gear. To suspend a hammock, you simply need to find two trees that are the right distance apart and then loop a strap around each tree trunk. Once the straps are tree friendly and secure, you can hang your hammock from them and enjoy a peaceful night's sleep. It is important to note that you should always be aware of the ground underneath your hammock and make sure there are no sharp rocks or sticks that could cause damage. With the right setup, sleeping in a hammock can be a relaxing and enjoyable way to experience the great outdoors.