Swaying gently in a portable hammock chair, feeling the soft breeze on your face, and listening to the soothing sounds of nature. Whether at home, in the park, or on a camping trip, a portable hammock chair is a perfect companion for relaxation. In this article, we will explore 5 unique ways to unwind and relax in a portable hammock chair, providing you with creative ideas to make the most out of your hammock chair experience. So, let's dive in and discover the ultimate relaxation techniques!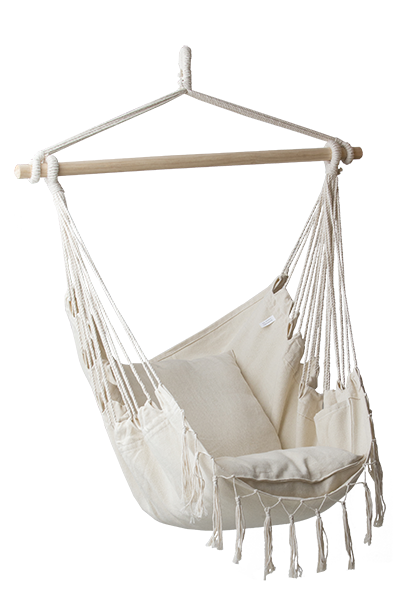 1. Chillax with a Good Book
There's nothing like curling up with a good book in a cozy hammock chair. You can create a cozy reading nook with a portable hammock chair. Hang it in your backyard, set it up in your living room, or take it along on your next camping trip. Snuggle into the soft fabric of the hammock chair, grab your favorite book, and let yourself get lost in the world of literature.
Pro tip: Use a bookshelf or a side table nearby to keep your book, glasses, and a refreshing drink within reach for a seamless reading experience.
2. Swing Your Worries Away
Hammock chairs are not just for reading. They are also perfect for swinging your worries away. The gentle swaying motion of the hammock chair can help you relax and de-stress after a long day. Find a peaceful spot, set up your hammock chair, and let yourself be gently rocked back and forth. Close your eyes, take deep breaths, and release all the stress and tension as you swing your worries away.
Pro tip: Hang your hammock chair in a place with a view, such as by the window or overlooking a scenic spot, to enhance the calming effect of the swinging motion.
3. Meditate and Connect with Nature
Hammock chairs are also ideal for meditation and connecting with nature. Find a serene spot in nature, such as a park or a beach, and set up your hammock chair. Sit comfortably in the chair, close your eyes, and practice mindfulness or meditation. Let the gentle swaying of the hammock chair soothe your senses and help you connect with nature's sights, sounds, and smells.
Pro tip: Use a lightweight eye mask or a blindfold to block out distractions and fully immerse yourself in your meditation practice.
4. Enjoy a Nap in Nature's Cradle
One of the unique features of a portable hammock chair is that it allows you to take a cozy nap in nature's cradle. Find a shady spot with two sturdy anchor points, such as trees or posts, and hang your hammock chair securely. Lie back, cocooned in the soft fabric of the chair, and let yourself drift off to sleep while gently swaying in the breeze. Wake up feeling refreshed and rejuvenated, ready to take on the day with renewed energy.
Pro tip: Use a cushion or a small pillow for extra comfort and support during nap time.
5. Spend Quality Time with Loved Ones
Hammock chairs are not just for solitary relaxation. They are also perfect for spending quality time with your loved ones. Set up multiple hammock chairs side by side, or use a double hammock chair for cozy cuddling with your partner or friends. Enjoy conversations, laughter, and bonding moments while lounging in the comfort of a hammock chair.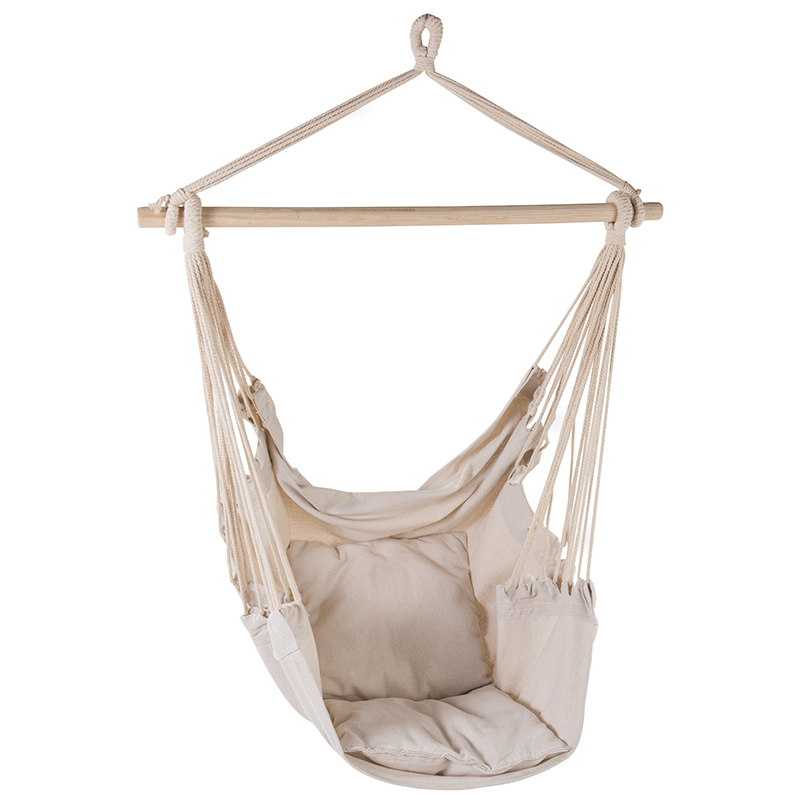 Ultimate Relaxation Guaranteed: Finding the Perfect Hammock Chair
Hammock chairs come in various styles, each offering a unique experience of relaxation. Here are some popular types of hammock chairs to consider:
Classic Hammock Chair: This is the traditional style of a hammock chair, consisting of a hanging seat made of fabric or rope attached to a single point. It provides a cozy cocoon-like experience, allowing you to curl up and relax while enjoying the gentle swaying motion. Enhance your indoor decor with the perfect blend of comfort and style using the Canvas Hammock Chair. This camp chair features an elegant macrame with a tassel fringe, making it a stylish addition to any bedroom, patio, or interior space. Crafted with luxurious cotton rope and an aluminum frame, this hammock swing is durable and breathable, allowing optimal air circulation as you relax and lull yourself to sleep.  The weight capacity is 250 pounds. Whether using it for a nap, reading a book, or simply taking a moment to unwind, this versatile chair is perfect indoors and outdoors. Plus, with free shipping and the option to return unused items for a full refund within the specified timeframe, you can enjoy peace of mind with your purchase. So why wait? Install, adjust, and assemble your hammock chair today and let yourself drift away in luxurious comfort wherever you place it.
Hanging Swing Chair: This hammock chair features a larger seat with a backrest, providing additional support and comfort. It is perfect for reading, napping, or simply lounging, and it can be hung from a porch, tree, or stand. The weight capacity is 250 pounds.
Hammock Chair with Stand: If you don't have a suitable spot to hang your hammock chair, a freestanding hammock chair with a sturdy stand can be a great option. It provides flexibility in terms of placement and can be easily moved around to different locations in your outdoor space.
Hammock Chair with Canopy: A canopy is ideal for those who enjoy spending time outdoors but want shade from the sun. The weight capacity is 250 pounds. It protects from the sun's rays, allowing you to relax comfortably even on hot, sunny days.
Also Consider: Hammock Stands
Consider investing in a hammock stand to add a hammock to your outdoor space. While some hammocks can be hung from trees or other structures, a stand provides more flexibility and convenience. With a stand, you can set up your hammock anywhere you like without worrying about finding the perfect trees with just the right spacing to hang it from. Plus, a stand can help protect your trees from damage caused by hammock ropes. Hammock stands come in various materials, including wood, metal, and plastic, so you can choose the one that best fits your preferred aesthetic and functional needs. Many stands are also adjustable, allowing you to set the hammock at the perfect height. So, if you're looking to relax and unwind in the comfort of a hammock, don't forget to consider investing in a hammock stand to complete your outdoor oasis.